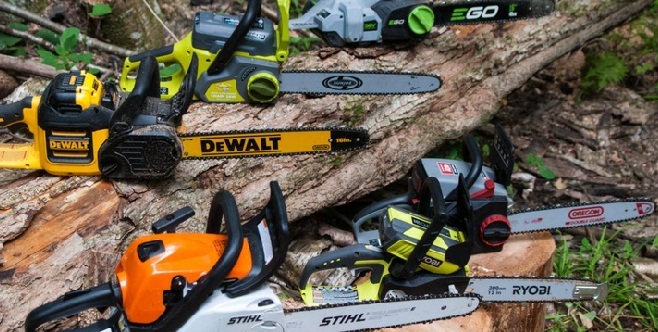 If you want to handle some landscaping cleaning, prune small branches or split wood used for fuel, an electric chainsaw will be useful equipment.
Why?
It is much lighter, quieter and less expensive than a traditional chainsaw. Another plus point is that it does not use gasoline.
However, you have to accept that it will be less powerful, take more time to cut, and come with an electrical cord. But we believe these little limitations will not affect your work efficiency.
Still new to operating chainsaws? We will show you how to start an electric chainsaw and how it works.
How To Start An Electric Chainsaw?
Step 1: Read The Manufacturer's Manual
Reading the instruction description of the electric chainsaw carefully before operating it is a crucial step – you will know how to handle the machine without making serious mistakes and especially hurting yourself.
Even if you are familiar with electric chainsaws, you should read the manual as well. That is because each chainsaw comes with different specifications and features.
Step 2: Fill The Saw Blade Reservoir
Usually, the SAE 30 weight oil is suitable with most electric chainsaws.
However, some chainsaws require a specific level and type of oil. This is why you should read the manufacturer's manual to fill the blade reservoir with the recommended oil.
Step 3: Plug The Power Cord
If the power cord of your chainsaw is long, for example, 100 feet, you can plug it directly into an electrical outlet.
Your power cord is too short? Plug it into a heavy gauge extension cable instead.
Step 4: Put on safety gears
Your safety is a priority! Some of the essential safety gears you must use are goggles, gloves, and a helmet.
In case you plan to trim small and old branches, the helmet may not be necessary.
Step 5: Start the machine
Now it is time to operate it! First, put the blade of the chainsaw away from you and other objects. Then, press the safety switch and pull the trigger. Wait some time to let the oil lubricate the chain.
Besides, some machines have a pump for you to press to lubricate the engine. So, consult the manual to do this step correctly.
Step 6: Practice
A little practice will let you know the strength and the operation of the saw. Use your left hand to hold the safety bar while using your right hand to operate the trigger.
Now, bring the chainsaw down onto the wood, near the center of the blade. When you cut the wood, make some downward pressure to guide the machine rather than forcing it. Just let the chain do its task. Remember not to cut anything from the tip of the chainsaw.
Some safety principles! Keep your hands steady and hold the machine tightly with both hands; otherwise, you may get injured if a kickback happens. And stand in a stable position with feet apart.
With small trees or saplings, you just need to cut straight through them.
What about medium trees? First, cut a notch that is one-third of the tree's width in a horizontal direction. You should always cut this notch on the side you want the tree to fall. Cut with a 45-degree angle above the notch to make an open wedge.
Then, move the machine to the opposite side of the wedge. Continue to cut with a 45-degree angle, about two inches above the bottom of the wedge til the tree falls.
Now, the rest of the work is trimming. Use the chainsaw and apply basic safety practices recommended in the manual.
Do not forget to add the oil before it runs dry.
Step 7: Finish
After cutting, unplug the saw. It can stay hot for 10 minutes, so keep it away from children and pets.
Warning
Always look at your surroundings and know the location of the electrical cord so that you will not hit it against the running blade of the chainsaw.
Never cut down a tree while standing downhill from it. You can cut a tree away from other objects, but do not cut away from its natural angle.
Always be aware of potential kickback.
Add the oil before it runs dry.
How Does Electric Chainsaw Work?
As we have mentioned above, electric chainsaws do not use either gasoline like traditional ones or batteries. They have a long and versatile cord so that you can plug it into a nearby electrical source.
This cord is often 100 feet long, and even longer with more advanced brands.
But you do not have to worry – it is flexible so that your movements will not be limited. By the way, the length of 100 feet is also adequate for you to move around the yard, trim trees and do other medium tasks.
If you want, try using an extension cord to increase the length of the space where you work. You see, there are no limitations here!
Also, electric chainsaws have some outstanding features that make your work easier:
Anti-vibration – It keeps you and the machine stable while you are cutting, reducing potential damage.
Automatic chain system and lubrication – there is no need to adjust the tension of the chain manually. Moreover, you do not have to stop during the project to lubricate your saw.
Air-cleaning filter – it releases no fumes, removes debris particles from the internal parts of the chainsaw, preventing kickback or sputtering.
Conclusion
Now you have known how to start an electric chainsaw. Always keep in mind these basic safety principles, and you can handle it with ease.
We hope our sharing is useful for you. If you have anything new to share, do not hesitate!
Thank you for reading.