As an Amazon Associate, I earn from qualifying purchases.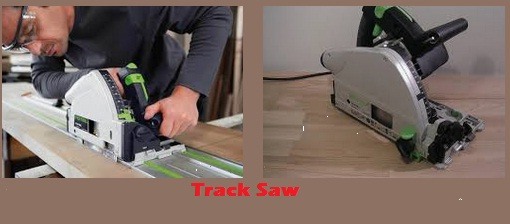 Hello everyone! Many customers have asked us for the best track saw reviews since last week. That's the main reason why we've come back again to help you guys!
Well, do you know?
The track saw is a power saw that is among the most crucial devices in different workshops. Most woodworkers love it and use it for almost all their projects.
Now, many reputable brands like Makita, DeWalt, Festool, or Kreg make those saws. So you may get something robust and reliable for different DIY projects.
In today's piece, we'll highlight some vital points that you should know about this tool and review excellent models in the recent market. Move to the first part right now!
What Are Track Saws?
You know this tool, don't you?
In your workshop, there're many types of power saws. For making accurate, precise and long cuts on the sheet materials, you may find track saws the most useful.
A unique element that sets track saws apart from others is the track. This part will keep the materials in place and guide you where to slice.
Track saws may look like circular saws, but the functionality of the former goes beyond that of the latter. Track saws can make clean, smooth cuts which are hard to manage with circular saws.
Also, track saws feature a quick spinning blade like table saws. However, unlike table saws, you must take the blade to materials but not bring the workpiece to your blade.
Overall, it is a perfect combination of a dedicated saw and well-designed track, which can help to make your desired products.
How To Choose The Best Track Saw?
When you intend to buy new track saws, you should consider some following factors to pick up the best one:
Cord Length
The first thing to notice is your tool's cord length. While using your tool along floors or walls, it will be an issue if you run out of cord and can't finish the cut.
So you'd better ensure that your track saw has a long enough cord for getting the job well done. Some items have power cords which are just 8 feet but others have cords which are even 14 feet.
To maneuver around the issue with cord's length, consider buying a cordless product. They are battery-operated tools that offer impressive mobility and versatility.
RPM (Maximum Speed)
An important factor which determines your tool strength is the maximum speed it may achieve. Here, speed is often measured in RPM that stands for Revolutions Per Minute.
Plus, to be sure that the saw can cut through a wide range of materials, you should buy products with the respective RPM ranges. Possessing a product with an appropriate RPM range will let you tackle everything and select from slower, finer cuts or fast results.
If possible, track saws with adjustable speeds should be prioritized. Different speeds will let you slice through various materials and wood types with swiftness and accuracy.
Bevel Capacity
This feature is your device's capability of cutting at an angle. While many saws cut straight down or at a 90 degree angle, others will let you make woodworking angled cuts.
That point helps to increase your saw's versatility so you can use it in different projects.
Besides, a track saw with bevel adjustments will be a smart option. It can help you tackle various woodworking tasks. Here, the bevel adjustment abilities of the tool should have the ranges from -1 degree to 48 degrees.
Blades
Some corded models have large blades, while cordless items use the lighter and smaller blade to save their battery life.
Especially, if the blade has a large size and many cutting teeth, the total cuts will be smoother.
Plus, most new models have all-purpose carbide-tipped wood-cutting blades. There are also other blade types available for some special purposes.
Blades for cutting metal, tile, wood, and concrete might differ greatly or slightly depending on your specific needs. Therefore, if a specific project requires optimal result, choose your blade accordingly.
Price and quality
The final factors when choosing a track saw are the price and its provided quality.
Well, we often want to get the best money-saving offers while shopping, right? But in the power tool market, the best buy deal isn't always the cheapest one.
Even when looking for an affordable chainsaw, you should focus on those two things. Your affordable tool should produce consistent results and should be long-lasting.
Best Track Saw Reviews 2023
1 – Festool TSC 55 REB –

Top pick
The first candidate in our best track saw under $500 is the Festool TSC 55 REB. Festool is among reputable brands of the power tool manufacturer and their products won't disappoint you.
Although this saw looks small, it will provide an amazing arsenal of benefits compared to other competitors. Its 10A motor can deliver enough power for cutting almost anything.
You'll also find some innovative features in this reliable model such as its splinter guard, clear viewing window, FastFix system or Limit Stop.
Especially, the splinter guard will offer zero-clearance slots around the blade's leading edge to deliver clean cuts. We love this part because it helps to get the smoothest cut edges.
What else?
It features a spring-loaded and true riving knife, -1 to 47-degree bevel capacity as well as 0 and 45-degree positive stops for cutting versatility.
Plus, the great dust collection part will stop the spread of dust around your worksite.
Some newbies may find the included instructions a bit hard to follow at the first time.
Pros
Portable
Superb and accurate for many custom cuts
Cuts beautifully along with higher precision
Takes up not much floor space
Has a safer and easier blade change
Adjusts the cutting depth well
Effective and thick splinter guard
Cons
Has hard-to-follow instructions
It is perfect for homeowners, DIY fans, amateurs, as well as professional woodworkers and remodelers who need a versatile device for handling a huge amount of uses and replacing bulky power tools.
2 – Festool 575389 Plunge Cut Ts 75 EQ-F-Plus USA –

Best Plunge Saw
We are still under the impression of Festool products. Now, we would like to introduce another revolutionary tool of this brand. That is the Festool TS 75 EQ-F-Plus 575389 track saw.
What impresses us is the robust design for making clean cuts. Its guide rail systems help to create laser-straight and tearing-free cuts. The rail's rubber lip can reduce the edge splintering which affects the results.
It also comes with vital safety features such as the riving knife, blade guards and the effective dust port.
The spring-loaded riving knife will bring you more safety and a peaceful mind. Plus, it keeps the kerf of cuts open so materials won't pinch the saw's blade, giving you complete control of operations.
What's more:
While in use, it can make 2-1/8-inch deep cut at 45-degree and 2-3/4-inch deep at 90-degree. The guide rail clamping is unnecessary because it can stay exactly wherever you want.
This tool is a bit costly compared to others but what its excellent performance is worth the price tag.
Pros
An ideal option for contracts, or heavy users
Reducing the issue of kickback
Easy blade changes
Imperial measurement marking for precise cutting depth
Detachable power cord
Motor's triple bearing for more running smoothness
Accessible limit stop
Cons
It works well with many applications. It's great for woodworkers or carpenters who are running any construction business, truing lumber, building houses, slicing solid doors, or cutting window frames.
3 – DEWALT DWS520CK TrackSaw Kit –

Best Track Saw Kit
If you need straight and ultra-fine cuts over a long distance, this DEWALT DWS520CK kit will be the best. It offers 2-1/8-inch deep cut at 90-degree and 1-5/8-inch deep at 45-degree.
The 12A motor will make cuts at 4,000 RPM max speed for fast work. There is also a 59- and 102-inch track for comfortable work with popular board sizes. The dual edges of those tracks will let you cut in two directions.
Plus, its zero-clearance and straight-plunge construction will prevent splinters. How about the dust spread? Its vacuum system will collect 90% of them for you!
We also love the safety features of this corded tool. DeWalt equips this model with a riving knife and an anti-kickback system for preventing injuries. Its low-profile 48-tooth blade guard will allow the use in small areas.
Especially:
Repairing this variable-speed device is easy because each spare part is available out there. With many impressive features, you'll finish the task well, no matter how small or large your job is.
We suppose that DeWalt clamps will be a perfect companion of this saw. However, they aren't included with this purchase.
Pros
Comfortable to use and powerful
More versatile than table saws
Gives splinter-free and precise cuts
Ideal for even confined spaces
Perfect with an included saw, 6-1/2-inch blade, blade wrench, 59-inch, and 102-inch track and a kit box
Available with a 3-year warranty, one-year service contract, and 90-day satisfaction guarantee
Simple to cut almost boards at the job site thanks to corded tracks
Cons
Doesn't include DeWalt clamps
This tool is an all-rounder for professional woodworkers or hobbyists alike capable with most woodworking tasks such as ripping, metering and cross-cutting sheet goods, edge joining, hardwood flooring, door trimming, or cutting multiple-pieces.
4 – Makita SP6000J1 6-1/2″ Plunge Circular Saw Kit –

Best Budget Track Saw
Let's move to another economical option called Makita SP6000J1 6-1/2-inch plunge kit. Like other brands we've examined, Makita has reputable in the power saws world.
Coming with an anodized aluminum guide rail, this saw is well-designed, powerful, and offers incredible performance. It delivers clean, smooth cuts through various materials and can withstand a long time of heavy uses.
The 1-9/16-inch at 45-degree and 2-3/16-inch at 90-degree cutting capacity is ideal for most tasks. Its magnesium sturdy build will ensure that it's lightweight but still durable.
What's more, the 12A motor with slow speed starting is a highlight of this circular saw. There is a torque limiter to prevent the burnouts as well.
And with the capability of making -1 to 48-degree bevel cuts, this power tool is very versatile. You will also find it comfortable thanks to the rubber overmold on the handles.
If you get used to the imperial measurements, it can be a bit strange for you to get acquainted with metric units of this tool.
Pros
Reasonable Price
High quality with excellent value
Great dust collection
Being compatible with various accessories
Durable magnesium design
3mm scoring capability
Electronic speed controlling system
Cons
Just displays metric units
Most seasoned woodworkers and hobbyists use this tool in various professional and home projects. It will help cut through melamine and different materials at ease.
5 – Kreg ACS2000 Adaptive Cutting System Saw – Best Versatile
The final bright candidate in our list is Kreg ACS2000 saw. Coming with guide track, the kit will provide you with guided cutting to get smooth and straight cuts.
For cutting sheet goods and solid wood, it is an excellent combination with unparalleled control and cutting ability up to 50 inches.
The saw is quite straightforward to use with all adjustability of standard circular saws. Especially, with the plunge saw, you'll get safety interlocks to prevent turning or plunging on this item before depressing interlock button switch.
And while its 62-inch guide track is staying in a place with no clams, its plunge saw can cut up to 1-1/2-inch at 45 degrees and 2-1/8-inch at 90 degrees.
Unlike many plunge saws, the blade of this model is on the left, which helps with observing the blade while cutting. How convenient it is!
If you use this model along with a Project Table, you will get the perfect working results. However, you have to buy that table separately.
Pros
Eliminates kickback
Protects your hands
Supports heavy, big materials
Cuts straight and minimizes the tear
Sets accurate measurements
Works wherever you enjoy
Has ergonomic handles
Cons
Doesn't come with a Project Table
It helps DIYers at home or furniture organizers in handling all slicing needs in the hardwood, plywood, or dimensional lumber.
Final word
Well, there you have the best track saw reviews to consider now. Our recommendation will help make your difficult decision easier.
And as far as we're concerned, the Festool TS 75 EQ-F-Plus 575389 is our top pick. It's a great quality product which comes from a well-established and well -trusted manufacturer.
Plus, it benefits from a great deal of value when considering premium features it has. The reasonable price also makes many shoppers pleased.
That is only our suggestion! You'd better consider what you need to get the best one. Enjoy your shopping, and don't forget to share this post! Thanks!