If you want to start your woodworking, a basic set of tools is necessary, especially the saw for cutting wood quickly.
There are many different types of saws, so it is difficult to determine which type of saw is suitable to complete a specific job. If you choose the right one, you will be comfortable with its operation and limitations.
You can use a miter saw for many purposes such as common board cuts, angled cuts and miter compound angle, trim job or DIY works such as flooring, repair.
If you want to do these tasks, you should buy the good miter saw. That's why we bring the best miter saw reviews to you. You will have beneficial information about miter saws, the best product list for each type of these saws, and how to choose the proper saws to suit your woodworking needs.
Are you ready to explore with us now? Get started with something about miter saws you may want to know.
What is Miter Saw?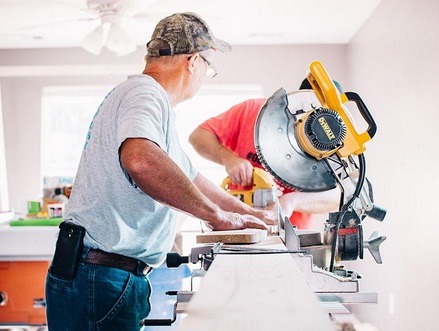 You can use a miter saw to make miter cuts and crosscuts by pulling a circular saw blade down or large back saw on a workpiece placed on a flat surface.
This type of saw is stationary, so you don't need to run the saw blade along with the piece. You just keep the wood against the saw fence in a right cutting angle between the plane of the blade and the longest piece edge.
You use these saws to cut larger pieces into smaller ones, and then you continue to use other saws to make them more in the shape you want.
The angle is 90° in regular cutting position. You can also rotate the blade at different angles, the most common is 45°, to make angled cuts for a large number of woods.
Type of Miter Saw
You can select many types of miter saws that offer different levels of functionality and cutting. Here they are:
Basic Miter Saw
This type of miter saw provides you with straight cuts at many different angles. You need to select the blade size that matches the cutting size you need. Note that most products can be cut at 90° and 45° angles.
As mentioned above, this saw helps you cut basic miter and crosscuts. Manufacturers can add other features depending on product models. If you often work with frames or have basic cutting needs, this is the ideal choice.
Compound Miter Saw
You will love the versatility of compound miter saws. They can rotate the head of the blade at different angles from the board to cut the wood at an angle exceeding 90°. It means that you make complicated cuts when doing trimming work for your home.
Firstly, a single compound miter saw has a head rotating only on one side, so you have to flip the board in the other direction when you want to cut more angles.
Secondly, a dual compound miter saw is designed with a head moving on the left and right of the saw. You can do many trim works without changing the board, just cut the same angle on the other side of the wood.
Thirdly, a sliding compound miter saw comes with a radial arm saw feature, so it is simple to move the saw head back and forth to cut the larger board. You can cut pieces wider than the blade, even double its cutting capacity. In particular, you should choose one with a laser and LED style guide to increase precision when cutting.
Compound vs Sliding Compound Miter Saw : The Differences
Compound Miter Saw
It operates in a similar way to a standard miter saw but its blade has a rotating arm that can tilt over 90° to do more than just a miter cut.
Pros
It has a great cutting arc.
It is suitable for a small space.
It has a reasonable price.
It is lightweight.
Cons
If the blade is smaller than the wood width, you cannot use the saw to cut.
Sliding Compound Miter Saw
It is a compound miter saw with difference width of the material processed. You can slide the saw forward and backward to cut thicker pieces.
Pros
It is easy to cut across wide boards without reposition.
It is more versatile than the compound type.
Cons
It is more expensive.
It needs more space to work with.
It is heavier and harder to move around.
Tips to know which one is the best
You should check your type of woodworking before choosing to buy a miter saw.
You consider your budget, material size, workshop space to find the perfect one for your jobs.
You can check out our reviews of top miter saws for more details.
Now it's time to see what to care when buying your great miter saw. Make sure you read all the suggestions from us for your best choice.
How To Choose the Best Miter Saw?
Understanding the key features of the miter saw will ensure that you own the right tool to do the job you want. Here we will provide you with information about the necessary components of the saw, including:
Blade
The blade determines the depth or height of the cut with a size of 8, 10 or 12 inches for a miter saw.
There are many types of blades for different materials, including some versatile ones for multi-use like cutting wood, aluminum or mild steel. Many teeth in a blade give you a smoother cut for finished work.
Miter
This saw type helps you cut miters or angles. You have many settings to adjust to different standard angles like 45° for angle joints. Some saws only miter to the left or right side to make it faster to use.
Slide
If you want to cut wood pieces with a larger width, let's buy products with a useful sliding feature. Therefore, you need to check the blade size, the saw specifications to know their cutting ability.
For example, when cuts are mostly dado, you'll need to slide more with less needed capacity. Or you often cut fencing posts, then a sliding miter saw with a large blade, and big width of cut capacity is ideal for you.
Compound
You have two choices for compound miter saws such as single or dual. For a single compound miter saw, you can use it to tilt to one side while dual one support you to rotate on the saw table for making a bevel.
As a result, you complete complicated angled cuts for crown molding and furniture making without rotating the wood. It sounds interesting, right? Remember to choose a reliable brand for sliding miter saw with a bevelling feature to avoid alignment loss.
Some other features
To assist you to hold the wood, keep your hands free and away from the sharp blade, most of the saws come with adjustable rear fences, extended arms, and workpiece clamps.
Moreover, you should pay attention to lights for low-light working conditions and integrated laser lines for a precise cut. The lasers display red lines on the wood where the blade will cut to make it easy for lining up with pencil line.
Also, new miter saws have variable speed dials to set the suitable motor speed for each material. Some saws today will do a great job of managing dust without a vacuum cleaner.
Accessories
You have to choose the right diameter blade and bore size for your saw. One tip for you is that the manufacturer provides the blade information on the package about the material used and the cutting.
In case you want to bring saws to the worksite, do not forget to buy a basic stand or a leg stand style with long extensions and features like clamps, roller carriers, supports and adjustable legs for many required cuts of your job.
Next, we will introduce you our top list of miter saws in three types. You can choose the suitable one after reading our reviews.
Take a closer look at these saws now!
Best Miter Saw Reviews 2022
Miter Saw

M

otor

Power

Voltage

Blade

Type

Dimensions

Weight

Editor's Rating

Metabo C10FCGS
5000 Rpm
15-Amp
120 V
10"
Compound

Single Bevel
20.2 x 15.5 x 14"
24.5 lbs

4.7/5

Genesis GMS1015LC
4600 Rpm
14-Amp
120 V
10"
Compound

Dual Bevel
19.5 x 16.2 x 15"
-

4.2/5

DEWALT DWS715
4000 Rpm
15-Amp
110 V
12"
Compound

Single Bevel
26.8 x 21.9 x 18.9"
42.8 lbs

4.8/5

DEWALT DW716XPS
3800 Rpm
15-Amp
120 V
12"
Compound

Double Bevel
27.5 x 20 x 20"
51.5 lbs

4.8/5

DEWALT DWS779
3800 Rpm
15-Amp
120 V
12"
Sliding Compound

Double Bevel
2 x 23 x 18.5"
56 lbs

4.8/5

Metabo C12RSH2S
4000 Rpm
15-Amp
120 V
12"
Sliding Compound

Dual Bevel
36.6 x 24 x 23.4"
77.8 lbs

4.6/5

Makita XSL06PT
4400 Rpm
5.0Ah
36 V
10"
Sliding Compound

Dual Bevel
22.4 x 32.7 x 21.6"
78 lbs

4.4/5

DEWALT DWS780
3,800 Rpm
15-Amp
120 V
12"
Sliding compound

Dual Bevel
21.5 x 17.7 x 17.1"
56 lbs

4.6/5

Delta 26-2251
4000 Rpm
1800W
120 V
12"
Sliding

Dual Bevel
25.5 x 30 x 21.5"
57 lbs

4.7/5

Bosch Power Tools GCM12SD
3800 Rpm
15-Amp
120 V
12"
Sliding

Dual Bevel
33.2 x 26.5 x 22.8"
65 lbs

4.6/5
1 – Metabo C10FCGS 10-Inch Compound Miter Saw – 

Best Miter Saw Under $100

This 22.5-pound versatile saw is the lightest in its segment to use or store without much effort. Metabo C10FCGS is the most portable 10-inch compound miter saw with laser marker sold on the market.
Hitachi equips this saw with Laser Marker system for accurate alignment and predictable blade position. You just need to arrange the laser with your mark on the workpiece, and the blade will produce an exact cut with the laser guide.
You will love its compound features for versatile, easy use. They are the positive miter stops for simple adjustments between 0-52° in crown molding and other trim pieces, a bevel range of 45° to the left, and the extended flip fence for large workpieces up to 2-5/16" high and 5-21/32" deep.
Some friendly features help you quickly make a purchase decision including a 15-amp motor with a no-load speed of up to 5,000 RPM, a comfortable horizontal handle, a vibration-reducing elastomer grip, a large table, a dust collector, and a clamping system. This design supports the high performance and ease of use for you.
Note that the dust collection is not good. Some users complained that it only caught 50% of the dust, and the rest went everywhere.
It is said that this 5-year warranty saw is an ideal tool for users who have demand in accuration and versatility.
Pros
Good quality construction
No wiggles or vibrations
Tight and smooth operation
Very solid and lightweight
Easy to use and move
Cons
The laser may be quite dim.
2 – Genesis GMS1015LC Compound Miter Saw – 

Best Miter Saw Under $200

What excellent features of this product attract users? Check them out now.
The first thing is the excellent included 60-tooth blades for finishing cut. You don't have to spend extra money on a quality blade to start your project with a powerful 15-amp motor.
Next, the Laser cutting guide offers quicker alignment and improved accuracy, and an Electric brake stops the blade within a few seconds after releasing the trigger. Safety and precision are what you need when using a saw.
For safer operation, you can count on the arbor lock to make blade changes faster and easier, and an included hold down clamp keeping the work in place. In term of portability and better accuracy, this saw has a die-cast aluminum base.
What about the saw's cutting capacities?
It can help you to make bevel cuts up to 45° left, use compound cutting for crown molding, shadow boxes, or picture frames, and make miter cuts up to 45° left and right, with nine position stops at commonly used angles.
Remember to turn off the laser if you don't want to see the battery die in a day or two. And you cannot cut metal on this saw.
Let's start your new DIY project with Genesis GMS1015LC 10″ compound miter saw today!
Pros
Compact and powerful
Good laser guide
Easy to make angled cuts
Solid and sharp blade
Straightforward to assemble
Cons
You may not get the nut that holds the angle of the blade to tighten.
3 – DEWALT DWS715 Compound Miter Saw –

Best Miter Saw Under $300

When it comes to the best miter saw under $300, Dewalt brand never let you down with its quality and performance. And the Dewalt DWS715 is no exception.
Check out many excellent features from this compound miter saw.
First of all, you can count on its portability because this saw has a lightweight design, head lock-down pin, and built-in carry handle. Now bring this tool everywhere you want very quickly.
Talking about the product extended power and durability, you may be surprised. Dewalt makes it with a 15-amp motor to drive 4000-rpm to satisfy most requirements of customers.
You may ask about the saw cutting capacities. It allows for 0-48° to the left and 0-3° to the right of bevel and 0-50° left and right of the miter. Also, the tall sliding fences support 6-1/2″ of base molding vertically and 5-1/4″ of crown molding vertically nested.
Another useful feature is its high-quality miter detent plate with 11-positive stops for durability, repeatable accuracy and quick adjustments. As such, you use this product more quickly and conveniently.
Remember not to use this saw to handle huge and dense cuts of wood. If your project requires this, you need to buy another product.
Buying this miter saw, you will be assured to use with a 90-day money back guarantee, 3-year limited warranty, and a one-year service contract. Come and get it now!
Pros
Reliable and accurate
Big and high fence
Good compound angle indents
Very secure locks and clean crosscuts
Ergonomic handle
Cons
The fence may not be parallel.
The folding lock is a small aluminum knob.
4 – DEWALT DW716XPS Compound Miter Saw –

Best Miter Saw Under $500

Your choice will be more abundant with the upgraded product for the DWS715 model. We introduce you to DEWALT DW716XPS.
The highlight of this model is the Integrated XPS Cross Cut Positioning System with LED lights. You can use it like a laser to indicate the cut location and operate efficiently with a simple on/off switch.
You can see that the two models have similar basic features, size, weight, engine, and warranty policy, but the upgraded DW716 model is more expensive because of the additional features.
For instance, you have tall sliding fences for base molding up to 6-1/2" vertically over the fence and crown molding up to 6-5/8" nested. Or it provides you with the double-bevel capabilities of 0-48° to the left and right and head lock-down pin. All are for your convenience, accuracy, and ease of use.
You should cut through some stock to get most of the yellow off of the blade that will smear on your initial cuts. And it's uncomfortable to turn the XPS light activation on and off.
For those who want a miter saw for professional use, investing in the DW716 model is the right choice because its double beveling feature can help with your job.
Pros
Precise work and mark
Accurate angles and tight miters
Strong motor and good blade
Nice cutting job
Fast electric brake
Cons
Dust collection with the provided bag is small.
5 – DEWALT DWS779 Sliding Compound Miter Saw –

Best For Amateurs




Although the DWS780 model is an upgrade of this product, the amateur can select the DEWALT DWS779 for their needs at a reasonable price.
What are the outstanding features of the Editor's Choice?
Compared to the DWS780, this product also has a reliable 15-amp engine, which produces enough power to drive the blade at high speeds up to 3,800 rpm. You can use it for harder materials such as hardwood, steel, aluminum, and plastic or larger and thicker workpieces.
In terms of cutting capacity, you will be satisfied with the support of this product. It helps you cut wood up to 2×16" for 90° crosscuts and up to 2×12" for 45° bevel cuts. Contributing to the precision is a high-slide fence for crown molding of up to 7.5 inches and a tilting blade on both left and right.
You cannot find the LED guide in this model, but most woodworkers can do well without it.
Instead, you have a built-in Cutline Blade Positioning System and dual horizontal steel rails to provide cutting instructions without adjustment on all materials and angles.
Like the previous product, it also has a super efficient dust collection system that captures over 75% of dust generated and 3-year limited warranty but only 30-day satisfaction guaranteed.
Lastly, you cannot go wrong with the DWS780 model, which provides ease of use, power, and value for money.
Pros
Well-built and heavy
Excellent mechanical adjustments
Very low price
True and straight cuts
Super quiet motor
Cons
The slider may get filled with sawdust and stuck, so you should clean it daily.
6 – Metabo C12RSH2S 12-Inch Sliding Compound Miter Saw –

Compact Slide System

Hitachi tools give you the convenience of use. Metabo C12RSH2S with the compact slide system helps the head moving along fixed rails and giving zero clearance. It also has high sliding fences to cut larger materials and easily slide off the way when making a bevel cut.
How about the accuracy?
The Laser Marker System is useful for beginners to make perfectly precise cuts. More than that, the powerful 15-amp engine provides enough power for different applications.
Users can use this saw for miter angle by tilting up to 57° to the right and 45° to the left. Also, 0-45 degree bevel angle to both sides is for easy flipping the saw blade and keeping the material in place. Thanks to that, the cutting capacities are remarkable from 90° cross cut, 45° miter, and bevel to compound cut.
For readable measurements and simple settings, the product offers you indications and positive stops on the bevel and miter scale.
Warning: When the bevel angle is at 45° to the left, the blade will nick the plastic near the base. To solve the problem, you should change the blade with a Hitachi 12-inch 80-tooth VPR blade.
Whether you are homeowners or contractors, you will find this product an affordable tool with excellent cutting capacity in high performance.
Pros
Big and heavy
Solid and powerful
Perfect laser guide
Good dust collection
Effortless glides
Cons
The dust bag needs emptying often.
7 – Makita XSL06PT Sliding Compound Miter Saw –

Best Cordless Miter Saw

Makita brand is famous for cordless saws. Let's explore the great features of Makita XSL06PT.
This saw is powered by two 18V Lithium-Ion batteries for 36V. It also has efficient Brushless Motor delivers up to 4,400 RPM for fast and efficient cutting and Automatic Speed Change technology, adjusting cutting speed for optimum performance.
With a direct drive system, you achieve smooth cuts. For precise cutting, the saw has a unique 2-rail slider system with the single sliding operation and reduces footprints allowing the saw to be placed flush against a wall.
What's more?
Because of the advanced direct drive gearbox and guard system, the saw has vertical cutting capacity (5-1/4") and crown molding cutting capacity (6-5/8" nested).
Furthermore, you can use it to make 4×12 crosscuts at 90°, miters 0° to 60° (left and right), and adjust from 0° to 48° (left and right) with bevel lock in the saw front.
One downside is that the safety trigger design is for the right-hand use.
Overall, it is an excellent addition for most carpenters and woodworkers. Will you bring it home after reading our review?
Pros
Heavy and cordless
Solid construction
Suitable for heavy-duty
True and precise cuts
Longtime batteries
Cons
The packaging may be damaged at delivery.
8 – DEWALT DWS780 Sliding Compound Miter Saw – 

Best Miter Saw Under $1000

First of all, DEWALT DWS780 has a powerful 15-amp engine for 3,800 rpm. Besides, the saw provides a high-capacity cutting such as 13-7/8" horizontal, 6-3/4" vertical, and 7-1/2" nested crown capacity.
Not only that, you have a back fence for making cuts up to a 2×16 at a 90° angle and 2×12 at a 45° angle. To keep the saw head away from the fence, Dewalt also designs this saw with a rail lock latch.
Here's something exciting for you.
The best sliding compound miter saw is famous for its durability. You can use it with high-volume and heavy-duty tasks thanks to its rugged materials like iron and stainless steel. So, it is more suitable for professionals than its predecessor, DWS779 model.
And the best part?
You will love the XPS cross-cut alignment system. It offers you an amazing ultra-bright LED light to show you where the blade comes in contact with the material. It means that you have more accurate cuts and durable blades because the system does not need recalibration over time or after changing blades.
One thing to note is that the saw does not have a stand. You should buy one if needed.
In the end, if you want to manage hard materials in industrial environments, give this miter saw a try when having a 90-day money back guarantee and 3-year limited warranty from Dewalt.
Pros
Solid and well-made
Wide cutting capacity
Easy to adjust and use
Smooth and quiet operation
Improved dust collection system
Cons
The saw is too powerful to jump down into the wood. You should pull the trigger well before bringing it down for the cut.
9 – Delta 26-2251 Sliding Cruzer Miter Saw –

The Widest Cross Cut Capacity

We soon bring you the miter saw with military-grade aluminum arms for fantastic accuracy, smoothness, and durability. Delta 26-2251 is also famous for its 12" blade with versatile flip-down fence design, making it the most extensive cross cut capacity.
Besides, the exclusive 15-amp motor with belt drive provides optimal power and cooling. For quick movement, you have front bevel release, front miter controls with one hand and push-button miter detent override.
Want to know the best part?
The best sliding miter saw supports you to keep crown molding up to 7.5" nested or 6.5" vertical baseboard. Also, it offers 60° right and 50° left of miter capability along with positive stops and 45° left or right of the bevel with an easy-to-reach switch.
The only shortcoming is that the product has no light system. For precise work, you need lasers to cut better while for rough cuts, lasers save your time.
If your need is a fast dual-bevel miter saw, bring home this Delta model right away.
Pros
Smooth and precise cutting
Easy settings, soft start, and fast lock
Well-built and good sliding mechanism
Good detents for bevel settings
Very sturdy and not too heavy
Cons
The plastic dust collector is too small.
10 – Bosch Power Tools GCM12SD Sliding Glide Miter Saw –

Bosch-Exclusive Axial-Glide System

It is our last product with Editor's Choice. Find your need and consider Bosch Power Tools GCM12SD feature to get the best match.
How good is it?
Let's talk about the Axial-Glide System. This system gives you a smooth cutting, precise performance, and a space-saving construction. As a result, you have a compact saw to use for wider cross cuts and better alignment.
It's great to own an extended cutting capacity, comprehensive bevel and miter scales, detents at standard angles, and accessible upfront controls.
To be more specific, you use this saw for any variety of cuts thanks to its 14" expanded horizontal cutting capacity, 6-1/2" vertical capacity, and a 6-1/2" crown capacity (45° spring).
The last things worth buying are pre-aligned Squarelock fences, a soft-grip ambidextrous handle, a combination of dust chute, and vacuum adaptor. They offer you precision and comfort in use.
One annoying thing for you is the fussy bevel lock. You must adjust the rear nut well, or it will be hard to use the bevel.
All in all, the Bosch GCM12SD is a great deal for your smooth cutting and flawless performance.
Pros
High-quality blade and powerful motor
Quiet and smooth operation
Good safety switches
Excellent space saving
Easy to set up
Cons
The price may be quite high.
Your Pick is…
A saw is an indispensable tool when you do woodwork, especially the best support from multi-purpose miter saw. To choose your best miter saw, you should pay attention to some features such as blade, miter, slide, compound, and other helpful features and accessories.
Do not forget to dig a little deeper on our reviews of top 10 miter saw on the market. We believe you have a good suggestion for your cutting needs.
In our opinion, we love the DWS780 model from Dewalt. It helps us to do high-volume and heavy-duty tasks. This saw is also a good investment because of its XPS cross-cut alignment system, a powerful 15-amp engine for 3,800 rpm, and high-capacity cutting.
If your need is the same as ours, you can buy this model to use at home or job site. If not, let's refer to 9 other products on the recommended list.
Our post is everything about miter saws. You can share it for those who are interested in this topic, as well as give us feedback here.