As an Amazon Associate, I earn from qualifying purchases.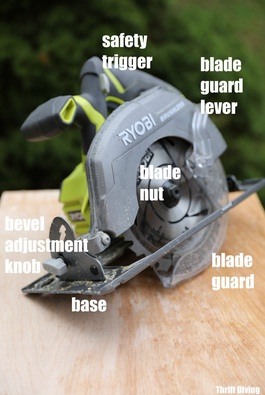 A number of hobbyists and homeowners like to use circular saws for their projects because of its flexibility and convenience. However, like any other kind of machine saws, it can be extremely dangerous if you have not learned how to use a circular saw?
Therefore, as a beginner, you cannot skip this detailed tutorial article.
Please read it carefully before operating your circular saw.
Configure The Saw And Prepare Your Workpiece
Choose the appropriate blade for your project
Circular saw blades have various sizes to meet different needs. You should choose your right one by following on the following instruction:
To cut nominal wood for construction, a 6.5 inch (~17 cm) blade is enough.
7.25 in (~18.4 cm) blades are standard for sawn wood up to 2.25 inches (~5.7 cm) thick
Choose saw blades which are about 8.1 inches ( or 20 to 25 cm) for heavy industrial work.
Put on safety gears
It is essential to equip yourself with a pair of thick work gloves and goggles to cover vulnerable areas. Consider taking some earplugs to prevent tinnitus and wearing masks to avoid inhaling dust, too.
In addition to safety equipment, you should also wear fit clothes and tie long hair or else the whirling blade will catch your hair or clothes.
Calculate carefully
Use a ruler to measure your workpiece then tick on any point that you need to cut.
You should measure the materials carefully and create highly-visible marks to perform correct cuts if you do not want to spoil your project.
Remember that you should only use circular saws to create short and vertical cuts. To perform more complex cuts, you should find other kinds of saw such as miter saw or jigsaw.
Fix your workpiece
Be sure that there is no obstacle in your path or the substance is unbalanced. By doing so, you don't need to worry about the blade drill into your workpiece when cutting.
Do not put your workpiece barely on the surface of a normal table, bench, or the floor or else it may cause serious damage to not only the substance surface but also the saw's blade.
Use a middle bar to insert the blade to the desired cutting depth
Pull the bar between the two handles to release the baseplate and enable it to move smoothly. From there, set the baseplate against your substance and lift or drop the blade till it holds at or beneath the base of your workpiece.
You should configure your blade in the range from 1/8 inch to 1/4  inch (0.31 cm – 0.63 cm) underneath the substance. Remember that the deeper the blade goes, the harder it works and more teeth exposed, which can be hazardous.
How To Use A Circular Saw In A Smooth Way?
Step 1: Set the line on the baseplate
On the front edge of the baseplate, you'll see a small mark with a bold line on both sides. The line on the left displays "0." It means the position of the blade is set to 90 degrees. You should always set it like this.
Step 2: Turn on the saw and cut
You can switch on the saw by simply dragging the switch on the side handle.
Once you operate the saw, the blade will start to whirl. Wait till it reaches maximum speed before cutting.
Next, push the saw gradually and lightly along your workpiece.
Use both of your hands to keep the saw moving at a reasonable speed as the blade cut through the substance.
Step 3: Turn off the saw
Switch off the saw when you have finished your work
Be sure that the blade guard is locked in the down position.
Put the saw in the warehouse or any suitable place until your next use.
Final Words
The above tutorial is the most basic knowledge you need to remember before using a circular saw. Your performance and safety will be ensured when you fully follow my step-by-step guide on how to use a circular saw.
Please share this article if you find it informative and don't hesitate to leave your questions in the comment section below. I will answer them as soon as possible. Now, see you and wait for my new article!