As an Amazon Associate, I earn from qualifying purchases.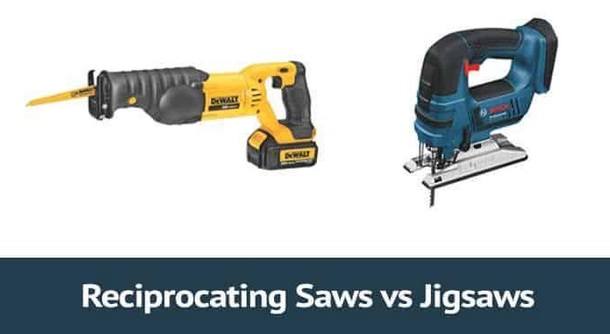 As the main topic of today's post, we are going to find out which one suits your demands and purposes better: a reciprocating saw or a jigsaw. There came confusion, hesitation, and a little bit of difficulty for me when I had to choose between the two saws. Since they are all convenient, handy, and proficient for a wide range of purposes; it's not easy to pick one. However, I have listed the pros and cons of each kind, which could help you make the right decision without wasting much time and effort.
How Is A Reciprocating Saw Different From A Jigsaw?
The two saws share several similarities since both of them are handy, portable, and able to do many kinds of jobs. However, you will find some differences when looking at the details.
Similar features
Below are some of the most prominent similarities of the two saws:
The blades of the saws move back and forth to cut things
There are shoes at the end of the blades
There are speed levels integrated in the two machines
A jigsaw is a type of the reciprocating saw, but we use these tools for different purposes. Now let's compare a reciprocating saw and a jigsaw to decide which one you need.
The differences between a reciprocating saw and a jigsaw
1 – Cutting lines
A jigsaw works the most efficiently when you need to perform a precious curved line, straight line, or even the odd cutting shape. It can make round cuts and parallel cuts, too. Meanwhile, a reciprocating saw is good at handling the material in the open such as pipes, windows, or tree limbs, etc. It provides quick cuts and shows out the blade for you to see the process easily.
2 – Function and flexibility
A jigsaw can work on most of the materials such as wood, light metal, plastic, and ceramic tiles. It creates a wide range of cutting shapes with better accuracy than that of a reciprocating saw. Also, we can bring this tool to the job site or anywhere we want. However, it can only operate on a tabletop or level surface.
We use a reciprocating saw mostly on demolition work, especially when we want to cut a branch, piece of metal, windows frame, drywall, etc. It performs quickly and fast with high convenience and portability. Especially with a cordless saw, you can quickly clear out tree limbs surrounding your rooftop, or fix a door jam.
However, you cannot require the precision of the project from a reciprocating saw because it mostly does the demolition work – as I said before.
3 – Purpose
Do you want to create an intricate and precious cut? Or are you into carrying out an odd cutting shape, round shape, or parallel shape? Does your project include a variety of materials such as wood, metal, plastic, and light metal? If your answer is yes, then you had better use a jigsaw. The jigsaw is portable, handy, and convenient, which fits your needs no matter who you are, a professional worker or a DIY-er.
A reciprocating saw is mainly for home projects. Why? Because it is versatile, handheld, and cordless. You can use this saw anywhere inside or outside your house. You can cut nails in a door jam, a branch crossing over your window, or a broken water pipe.
Now you know some of the main differences between a reciprocating saw and a jigsaw. But how can we decide which is better?
Which Is Better: A Reciprocating Saw Or A Jigsaw?
In fact, no saw is better or worse when compared to each other. It depends on what you want and what material you cut.
A reciprocating doesn't excel at creating fine crafts and projects. Thus, don't try to make a round cut or curved line with this device. On the other hand, a jigsaw is not designed for demolition work. The machine only concentrates on creating intricate, precise cuts, and therefore, it should be used for high accuracy projects.
When you decide which one to use, consider your purposes, and your project's material carefully.
Conclusion
It is easy to choose a reciprocating saw or a jigsaw when you are fully aware of their differences. Though they have similar features, it is crucial to know other relevant details to make the right choice. If you find it difficult to pick one, comment below for support.