As an Amazon Associate, I earn from qualifying purchases.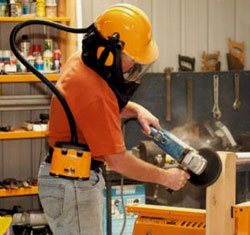 Most new saws come with provisions for connecting them to a dust collector. Contractor's saws are more difficult to set up for dust collection than bench top and cabinet saws. The open design of the base doesn't serve as an effective chamber for capturing the dust.
Many saws come with a dust port plate that covers the bottom of the saw and connects to a dust collector, but you'll probably have to cover the hack of the saw base as well with a piece of plywood.
Cut the plywood to fit around the drive belt housing and motor mount. Attach this plate with screws or bolts SO t can be removed when you need to perform routine maintenance.
It's worth the effort and expense to attach your saw to either a large-capacity shop vacuum or a dedicated dust collector. It takes a shop vacuum that draws about 350 cubic feet per minute (cfm) to keep up with a table saw.
Although a big shop vacuum will work as a dust collector for a table saw, eventually you should invest in a dedicated dust collector with a 4-inch-diameter hose. Shop vacuums aren't designed to he used as dust collectors for machinery, and no vacuum can keep up with surface planers or lathes that produce heavier chips and shavings.
A small dust collector draws about 650 cfm and can service any machine in your workshop, provided the ductwork or hose isn't so long that it impedes suction. You can buy one for about the same price as a large shop vacuum.
Dust collectors are designed in two styles: single-stage and two-stage. Single- stage collectors draw all the dust and chips past an impeller and blow them into a fabric bag. An upper hag traps fine dust as the exhaust air passes through.
Two-stage collectors pull debris through a hag or a canister before the impeller, and the larger chips are trapped here first. Fine dust passes through the impeller and into a second collection hag. The advantage of a two-stage dust collector is that there's less wear-and-tear on the impeller over time.
Smaller dust collectors are almost entirely the single- stage variety with one hose port. Larger collectors can be hooked up to two hoses at a time. Both styles can be connected to a branched ductwork system, but the collector should draw more than 650 cfm. Ductwork allows you to leave the collector in one place while still having dust collection wherever you need it in the shop.
Dust collectors won't trap all the fine particles of wood dust floating in the air. To catch these particles, you can mount an ambient air cleaner in your shop. These accessories use disposable or washable filters to trap dust. They can filter all the air in your shop several times an hour if you have a small workspace.
Otherwise, wear a disposable dust respirator or a mask with replaceable filters. The verdict is still out on how hazardous wood dust is to your lungs, but research indicates that wood dust may be carcinogenic over time. It makes breathing uncomfortable at the very least. Some wood species such as cedar contain oils that are especially irritating if you have allergies.
No matter what measures you take to control sawdust, open windows and doors to provide fresh air, and use a fan to help circulate the air.