1. Contractor's Table Saws
The next step up in capacity and size is the contractor's saw. Developed during the housing boom of the 1950s, these saws were a portable alternative to the heavier cast- iron saws of the lime. Carpenters could transport a contractor's saw weighing 200 to 300 pounds from job site to job site much more easily than table saws designed for stationary use.
Contractor's saws oiler the best combination of features, performance, and quality for the average woodworker. For starters, the saw tables are about the same size as cabinet saws—about 27 inches deep by 40 inches wide. These dimensions provide ample surface area for carrying out most ripping and crosscutting (asks. Some saws come with side extension tables that increase the maximum ripping width from 24 inches to more than 50 inches.
The extra room comes in handy for supporting and cutting full-size sheets of plywood. Tables are cast iron with steel or iron extension wings. Some iron wings are webbed, but the preferred style is solid. Most contractors' saws come with first- rate rip fences that are easy to keep aligned and require little or no routine tuning. Miter gauges on these saws tend to be much larger and heavier than those on benchtop saws for better work piece support and improved accuracy.
Unlike either benchtop or cabinet saws, which have motors mounted beneath the table, contractor's saw motors hang behind the saw on a hinged plate. One long drive belt extends from the motor to the arbor pulley, and it's kept tensioned by the weight of the motor. Motors are induction style rather than universal, and they range from 1½ to 2 horsepower. Most are the TEFC (totally enclosed, fan cooled) variety, which requires no lubrication or periodic cleaning. These larger motors deliver ample power to drive standard 10-inch saw blades through all types of wood up to around 3 inches thick. They're also well suited for spinning heavier dado blade sets and molding heads. Induction motors arc typically wired for regular 115-volt outlets, but they can be rewired fairly easily to 230-volt service, which cuts their amperage draw in half. Motors run cooler and ultimately longer when wired to the higher voltage.
Contractor's saws have open bases and legs that place the saw table height at around 34 inches. The open base style and legs help shed some pounds oil the machine, hut these saws are far too heavy to be called portable. You'll need help to tote one up and down a flight of stairs or lift it into a truck bed. A rolling base makes these saws easy to move into position for cutting and then out of the way for storage.
A new, middle-of-the-road contractor's saw can be had for around $500, which is significantly cheaper than buying a cabinet saw and only a hit more expensive than most benchiop models. There are a host of aftermarket accessories available for contractor's saws, including micro adjust rip fences, guards and splitters, precision miter gauges, and tenoning jigs, which make these workhorses even more accurate and versatile. Most contractor's saws have arbors that tilt the blade to the right, but Some new models now feature left-tilting mechanisms. All this said, contractor's saws are a great value for your tool dollars. If you are more than an occasional woodworker but don't have aspirations beyond a hobby. buy a contractor's saw.
2. Cabinet saws
Cabinet saws have been the preferred table saws of professional woodworkers for more than a century. While contractor's saws provide solid performance for a fair price, they can't match the precision, reliability, and power offered by these flagships of the table saw family. Cabinet saws get their name because the bases are fully enclosed. The undercarriage and motor are accessible through a door in the cabinet or a hinged or removable motor cover. Closed bases provide a rigid platform for the machine and help capture the sawdust. All cabinet saws come with a port or opening on the cabinet for connecting to a dust-collection system. Enclosing the motor also helps the saw run more quietly.
Sheer heft is probably the single biggest attribute that sets cabinet saws apart from the rest. Table and extension wings are always made of cast iron, and so are the important inner components that hold the blade in position and allow it to tilt and move up and down.
Cabinet saws are equipped with large, heavy-duty induction motors. Motor sizes range from 2 to 7 horsepower, and they are capable of producing substantial amounts of torque. Two or three drive belts deliver this power to the blade arbor. The shorter cabinet saw belts provide more efficient power transfer than the long contractor saw belts.
Stout undercarriage parts prevent the motor and belts from literally twisting the
arbor cradle out of alignment, which would skew the blade's orbit.
Cabinet saws come in both right- and left-tilt styles, depending on your preference. You can buy saws that accept 12-, 14- or 16-inch blades, but 10-inch-capacity machines are still the standard woodworking choice. Most of these machines are wired for 230-volt electric service. You can outfit a cabinet saw with a rolling base to make it somewhat portable, but moving 500 or more pounds of table saw around the shop is a chore you won't want to do often.
Owning a cabinet saw is a tantalizing thought, especially if you're a woodworker who demands precision and long tool life. A cabinet saw will likely be the last saw you'll ever need to buy, and it may even pass down a generation or two. However, adding one to your shop will set you back at least $800, and twice this amount or more for a professional-grade machine.
3. Hybrid saws & multipurpose machines.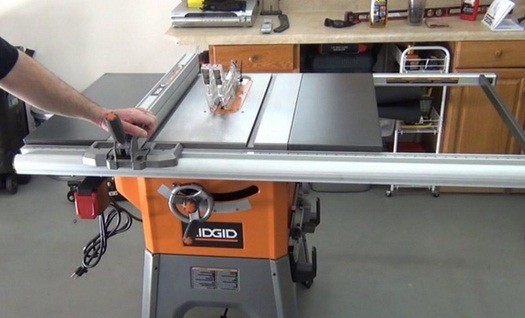 A new category of hybrid table saws is now emerging to bridge the gap between cabinet and contractor's saws. Essentially, these hybrids look like a cabinet saw from the outside hut share some aspects of both cabinet and contractor's saws inside. They also sport a more affordable price tag. The motor and undercarriage are concealed inside a partial or full cabinet, and the rip fence, miter gauge, and table casting are more robust than you'll find on the average contractor's saw. Inside the base, the motor and cradle configurations loosely resemble a contractor's saw. Motors hang from a pair of steel tubes or from a modified iron cradle and trunnion assembly that bolts to the table. The induction motors on these machines fall in the 1 to 2 horsepower range, so they're a bit larger than many contractor's saw motors but smaller than a cabinet saw's motor.
Aside from conventional-looking table saws, there are also numerous multipurpose machines that combine several stationary tools into one compact package. These tools have a single heavy-duty induction motor that drives all the different tool functions. Usually the motor slides on a pair of tubes to engage the various drive mechanisms of separate tools. You'll get a table saw, lathe, and drill press as standard equipment. The tool can also function as a jointer and band saw, hut these features must he purchased separately.